Auburn Veterinarians
Amy Bright, DVM, Owner
Growing up in rural Maine surrounded by animals, Dr. Amy Bright became fondly acquainted with animals early in life. Despite her initial desire to be a ballerina, she realized at age 7 that "a lot of the other girls were going to dance class and I wasn't. I suspected then that there was something wrong with my plan!"
Opportunities presented themselves in her high school years that allowed Dr. Bright to farm sit for local alpaca farms. During veterinary school, she worked with wildlife rehabilitation and completed medical rotations at the local raptor center. These experiences helped solidify her love for veterinary medicine and honed her early case management and surgery skills. Dr. Bright earned her bachelor's degree in animal science from the University of Massachusetts at Amherst and later graduated with her Doctorate of Veterinary Medicine from the University of Minnesota in 2001. She opened Tower Hill Animal Hospital in September, 2012.
During her years in practice, Dr. Bright has had many memoriable experiences that not only make her career choice rewarding but also inspiring. She fondly speaks of a friendly alpaca named Nimbus who was tragically burned in a barn fire. After eight months of therapy and the administration of daily treatments from a very dedicated owner, Nimbus was healed and surrounded by members of the alpaca community who helped rebuild his barn.
Then there was "Missy the Maltese" who also boasts loving and dedicated owners. When Missy developed sores all over her body, her owners were mystified. Dr. Bright was able to diagnose the condition as panniculitis, a rare inflammatory condition, and after intensive therapy, Missy healed and has been enjoying life ever since. Stories of animals' will to survive combined with pet owners' clear commitment brings Dr. Bright great satisfaction. "Getting to know my neighbors and their pets and guiding them to the healthiest, happiest life possible is the most rewarding part of my job," she says.
With professional interests in pet preventive care and camelid medicine, Dr. Bright is a member of the American Veterinary Medical Association, the New Hampshire Veterinary Medical Association, and the American Association of Small Ruminants Practitioners.
At home, she shares the company of her husband, two dogs and three llamas. In her spare time, Dr. Bright enjoys walking and running with her dogs and gardening.
Allen Tucker, DVM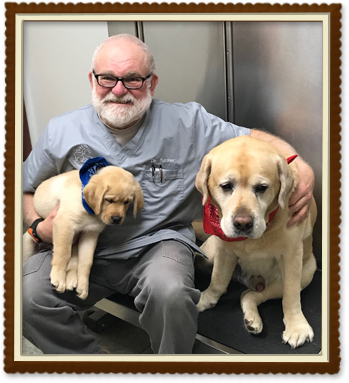 Dr. Allen Tucker is a veterinarian here at Tower Hill Animal Hospital. He grew up in Panton, VT and describes himself as a "home grown farm boy with a real love for animals." As a child, he took special interest watching the veterinarian treat the variety of animals on their farm. In high school, he began making farm calls with Dr. Wright in Vergennes. Dr. Tucker completed his pre-vet/med in just 2 years at the University of Vermont. He then attended Cornell University for veterinary school, graduating in 1972. Dr. Tucker was a member of Phi-Zeta and the National Honorary Society-Veterinarians.
Prior to Tower Hill, Dr. Tucker worked at two very reputable small animal hospitals in Kingston, NY and Burlington, VT. Dr. Tucker takes great interest in the surgical and dental field of veterinary and is a proud member of the American Veterinary Medical Association and the New Hampshire Veterinary Medical Association.
Dr. Tucker is married with two children, and three pets. A 7-year old yellow lab and two cats, ages 9 and 13. When he isn't working, Dr. Tucker enjoys off-road motorcycle trail rides, competitive endures and hare scrambles. He spends time woodworking, designing/building things in wood and steel, welding and preparing firewood.